Official Website of the Class of 1967 55th Reunion
News of Interest
Join our facebook page: E.C. Glass Class of 1967 Reunion
E. C. Glass Athletics Hall of Fame: http://www.lcsedu.net/schools/ecg/athletics/hall-fame
http://www.lynchburgva.gov/museum-system
https://en.wikipedia.org/wiki/E._C._Glass_High_School
https://en.wikipedia.org/wiki/National_Register_of_Historic_Places_listings_in_Lynchburg,_Virginia
Shirley McIvor Obituary
Shirley Katherine McIvor

Shirley Katherine McIvor, of Lynchburg, died on November 15, 2021, at her home. She was born in Lynchburg, the daughter of the late Labron Eugene McIvor and Katherine Cox McIvor.

Shirley graduated from E.C. Glass High School. She received an A.B. degree from Randolph-Macon Woman's College, a M.Ed. from the University of Virginia, and an advanced diploma from the University of Virginia. Shirley's long and rewarding career in education began with a stint as an elementary school teacher, followed by many years at E.C. Glass High School where she worked as a math teacher, guidance counselor, and dean of students before longtime service as associate principal. She had a positive impact on the lives of countless students, parents, and teachers before her retirement in 1988.

Shirley was a member of many community and national organizations, among which were Lynchburg Chapter, National Society of the Daughters of the American Revolution, Delta Kappa Gamma, Kappa Delta Pi, honorary educational society of the University of Virginia, American Association of University Women, Woman's Club of Lynchburg, and she was a Bronze Life Master of the American Contract Bridge League. She was also a member of Fort Hill United Methodist Church.

Shirley is survived by two nieces, Amy Brown and her husband, Haskell, and Charlotte Cassada and her husband, Bob, both of Richmond; and three great-nephews, Haskell Brown III, Carter Cassada and his wife, April, and Gray Cassada and his wife, Lizzy, all of Richmond. In addition to her parents, she was preceded in death by her brother, Labron Eugene McIvor Jr., and her sister, Evelyn Mae McIvor.

A graveside service will be held at 1 p.m. Friday November 19, 2021, in Spring Hill Cemetery with the Rev. Janet Hawkins officiating.

The family would like to express their heartfelt appreciation to Joan Rogers and Laura Patterson, Shirley's angels, for their devotion and loving care, and for jointly fulfilling Shirley's last wishes. They are grateful for the many kindnesses and prayers of numerous friends.

Memorial contributions may be made to the Salvation Army 2215 Park Ave. Lynchburg, VA 24501, and the Lynchburg Public Library.

Tharp Funeral Home & Crematory, Lynchburg, is assisting the family. To send condolences, please visit tharpfuneralhome.com.

Tharp Funeral Home & Crematory

Published by The News & Advance from Nov. 17 to Nov. 18, 2021.
Lynchburg museum acquires rocking cradle at center of spooky story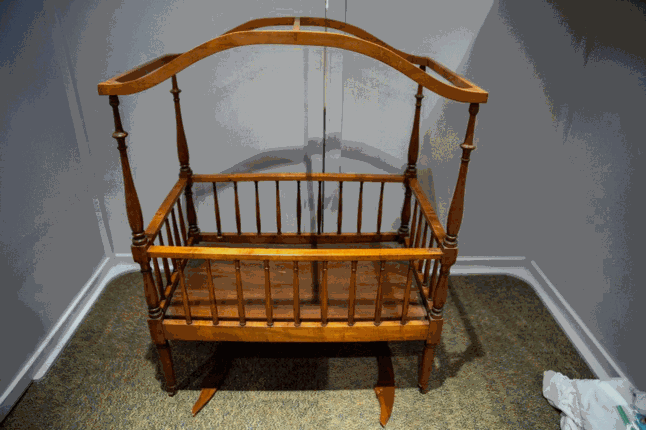 For almost 84 years, Lynchburg's own haunted rocking cradle has been lost to public record and reduced to rumor, little more than a ghost story retold every Halloween.
But now, about 182 years after the alleged haunting that rocketed it to infamy, the cradle has been donated to the Lynchburg Museum by direct descendants of the original 19th-century owners.
As the story goes, according to William Asbury Christian's "Lynchburg and Its People," published in 1900: It was the spring of 1839, in a one-story brick house on Jackson Street.
The Rev. William Smith was renting the home in the midst of his career as a Methodist preacher in Lynchburg. He and his wife borrowed a cradle from the Rev. John Early, a prominent leader in the Methodist church, who would later become Bishop Early.
One morning, the Smiths noticed the cradle began to vigorously rock on its own. According to the account: "Dr. Smith moved the cradle from near the fire-place into the middle of the floor, and said: 'Now Geoffrey (he called the Devil by that name), rock!' and he did."
In other versions of the story, the devil is called "Beelzebub" in the command uttered by Smith. Accounts differ — with some blaming the rocking on the devil, others on spirits, ghosts or "invisible hands."
The news of the cradle spread, and hundreds came to see it. No explanation for the mystery was satisfactory. In this version of events, the cradle continued rocking for some time, perhaps a month — and then stopped.
It is one of the city's best-known ghost stories, with reports of the "self-rocking cradle" published in papers across the state in the late 1800s.
The cradle is a local legend, said Museum Curator Emily Kubota. It's the first ghost story she heard when she moved here, and she's wanted to see proof of the cradle since she heard the stories. Acquiring it for the museum has been a dream come true, as much as an allegedly deeply haunted item can be a dream.
The thing itself is unexpectedly large and is incredibly well-kept for an almost 200-year-old artifact that spent long years sitting in dark attics, or in forgotten rooms. It's 3.5 feet long, 2 feet wide and 4.5 feet tall, made of stained mahogany and crafted in the Sheraton "high poster" style, according to the museum's release.
The original rockers were removed many decades ago, and the current ones are likely 20th-century additions. Last week, the rockers sat beside the cradle. Currently stored at the museum, it seemed no one wanted to tempt fate until later.
It was Rebecca Pickard, museum experience leader, who was tasked not only to do extensive research upon the acquisition of the cradle, but to put together a research file on the descendants themselves, creating a theory of the cradle's potential location, so the research could be matched with the descendant's own oral history.
Combing through newspaper articles, census records, wills and various publications, Pickard assembled a narrative. It led her, ultimately, to Tom Jackson's father.
It was Tom Jackson and his sister, Joan Coleman, both of Lynchburg, the great-great-great-grandchildren of Early, who donated the cradle to the museum this summer. Jackson, 62, said the cradle has been with him for the last 55 years, almost a lifetime.
After the incidents of the story, whatever version you believe, Pickard's research shows the cradle was given back to the Early family who stored it in the attic of their home at 700 Court St. The house passed to his daughter, and then his great-grandson. Eventually, the house was disassembled and reconstructed on Peakland Place. During the move, the cradle was discovered in the attic, rockers removed, and moved with the house.
A 1937 Virginia Works Progress Administration report is the last known mention of the cradle in the public record.
Eventually, the cradle passed through the family to Jackson's father and then to Tom, himself. It was kept in a back bedroom of the house for most of his life, he said.
"It was kind of like my little secret," said Jackson. He said there isn't much extra to tell, "no R-rated movie" twist. But, he continued in the same tone, earnestly: "If you ask me, I think it's still possessed."
He said it's brought him bad luck, and even more bad luck has happened since he moved the cradle. But he and his sister were its keepers, and after all this time, he wanted to donate it to the museum to keep it safe. Without any descendants that would like to take it, he was worried if the cradle began to get moved around, it could get damaged or lost.
"I would hate it if something happened to it, and no one knew that it existed," Jackson said. Not many people have seen it over the years, he said, but he's glad it is now in the possession of people who will appreciate and take care of it. He feels it is a "part of Lynchburg history."
And now that it has emerged from obscurity and myth, he wants to "share it."
Like any story, there's countless versions. In some, the baby is in the cradle during the alleged rocking. In others, the cradle is commanded to stop and the devil banished, the rockers cut off to ensure any possession cannot find hold.
Pickard said some of her most interesting findings were of the fates of the people in the story. The Smith's newborn child passed away, and Smith's wife, as well, years later. Their other daughter also died young.
According to Pickard, Elizabeth Early, the toddler whose crib had been gifted to the Smiths, was labeled a "lunatic" in her early 20s, and she was institutionalized at Western State Lunatic Asylum in Staunton until her death.
When asked if the cradle is haunted, Pickard exhaled deeply. She doesn't want to risk it.
"I think spiritual forces are at work in the world, and I don't want to tempt them," she said. "That's as far as I will go with it."
Still, she's looked at it on many a lunch break.
Kubota said she hasn't had any suspect experiences yet, but "we're all really waiting."
The museum will carry out a test Oct. 29, when staff will livestream a feed of the cradle at an undisclosed location from 8 to 10 p.m., in a "paranormal investigation." Staff plans to set up an infrared camera in the dark aimed at the cradle to capture any unexplained phenomenon.
The cradle also will be on long-term display at the Lynchburg Museum beginning Nov. 4.
Kubota said she's excited to hear people's stories, be it about the cradle or other Lynchburg legends.
"I think legends are really reflective of time and place, and I would love to hear more about people's own experiences with the paranormal in Lynchburg, and specifically with objects that are attached to those," she said.
Old fire station in Virginia becomes themed Airbnb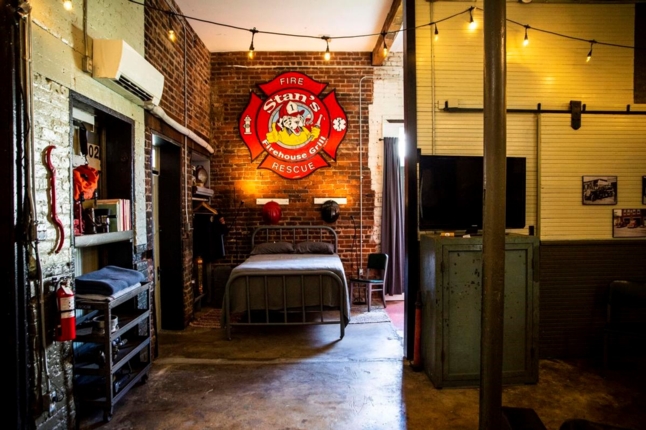 Part of the sleeping area in the Airbnb at Firehouse 4 Venue in Lynchburg, Va., is seen on Friday, Aug. 20, 2021.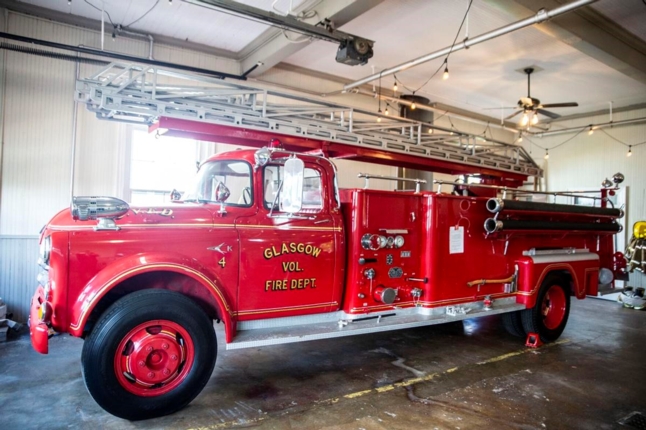 An antique pumper, ladder truck combination from Glasgow Volunteer Fire Department sits in the bay of Firehouse 4 Venue in Lynchburg, Va., on Friday, Aug. 20, 2021.
By RACHAEL SMITH, The News & Advance
LYNCHBURG, Va. (AP) — Inside the garage of the firehouse, a 1956 pumper and ladder combination fire truck from Glasgow Volunteer Fire Department is the newest addition to the Fire Station 4 Airbnb on Rivermont Avenue.
The restored truck still runs but didn't fit inside the Glasgow department so the Woodland family opened up his home to it recently.
Tim Woodland and his wife, Shannon, purchased the circa-1905 fire station at 1210 Rivermont Ave. adjacent from the Exxon station at the corner of Bedford Avenue in 2018. The couple has been renting out the bottom as a short-term rental since May 2020.
"We took off like grease lightning," Woodland said. "People were sick of being isolated and kept inside and they wanted to get out. Lynchburg is a great place for hiking and outdoor activities and it really took off."
The Woodlands, who moved to the area in 2017 from the Tidewater region, moved into the upstairs portion of the 7,700 square-foot, two-story structure in the fall of 2018.
Behind the fire truck are donated fire helmets and gear that he encourages guests to try on and take photos of to share with him, which he then hangs on a wall in the garage.
Woodland, who retired after 30 years with the Chesapeake Fire Department, drove past the station on Rivermont for the first time and "nearly snapped" his neck.
In its glory days, the firehouse ran two teams of horses and fire apparatus into area neighborhoods.
The fire station was in use until September 1991 when a new Fire Station 4 was built at 410 Birch Street that same year less than a mile away.
The city sold the vacant fire station to Tony Gambone in 1993 for $20,000. Gambone, an electrician, rewired the entire building and lived there.
In 2004, Nancy Marion purchased the building for $90,300 from an auction, according to Lynchburg GIS, and did the majority of the painting and renovations inside.
For the next 14 years, the building was occupied by the Marions, who lived on the second floor for a few years before building lofts to rent out to their children and eventually to college students.
Today, Woodland primarily uses the downstairs for Airbnb rentals but occasionally has opened the garage for weddings and other small events. The Airbnb can sleep three people but can fit more with an air mattress, he said.
"The Airbnb is set up to look like just an old firehouse," Woodland said. "It even has a log book for people to write in and leave notes. People just love the space."
He said little work was done to the firehouse except some painting, new ceiling fans and new light fixtures.
The living space with 13-foot ceilings also is known as the middle bay, where horses originally were housed. It also is home of the 65-foot hose drying tower.
A large firehouse kitchen sits adjacent to the living space, as well as a full bathroom with firefighting memorabilia.
The Lynchburg Fire Department has equipment, parts of an old fire truck and photos at the Airbnb for guests to enjoy.
"Things are here to be handled, taken out of the cabinets to take a look at and to be enjoyed," Woodland said.
Other memorabilia includes firefighter patches from all over the country that have been donated to Woodland, helmets, photos, the original phone from the firehouse and one large sign hanging above the bed that a buddy of Woodland donated to him after he closed his restaurant.
The vast majority of guests don't tend to use the kitchen, which still is in its original state, Woodland said.
"Most people are here for one night," he said. "People are traveling south to north or north to south and Lynchburg seems to be a great stopping point."
He said he gets a lot of parents of college students who come to stay while visiting their children.
There is a 1950s television on top of the refrigerator making it look exactly the way it would have when the firehouse was in operation.
The cabinets are original but Woodland added a new sink and faucet, as well as a double oven.
Woodland said his wife Shannon did most of the landscaping outside with a garden, bistro table, towering trees and a fence separating guests from the business of Rivermont Avenue.
"We just hope people enjoy the space," he said.
For copyright information, check with the distributor of this item, The News & Advance.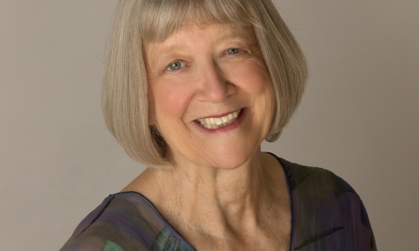 Congratulations to Kathy O'Keeffe, recipient of this year's Cabell Brand Hope Award. See https://tapintohope.org/2019/09/05/tap-presents-2019-cabell-brand-hope-award-to-reverend-dr-kathy-okeeffe/
THE TEMPTATIONS ARE COMING - 1967
If your have trouble reading, enlarge the print using the View on your browser.
From our classmate, Walker Sydnor.
I recently wrote a period piece on our senior year, and the Temptations concert that followed that summer in the Glass auditorium. I don't think anyone who was there will ever forget that one!
The piece was published in Lynch's Ferry, a respectable historical magazine about Lynchburg. The issue is just out. They decided to include my little humorous fluff, along with the other scholarly articles. I guess we are old enough now to be considered history!
Anyway, the attachment is the published story that I wrote, including some yearbook photos. As the keeper of the class website, I will leave it with you as to whether this should be posted for our classmates.
Best regards, Walker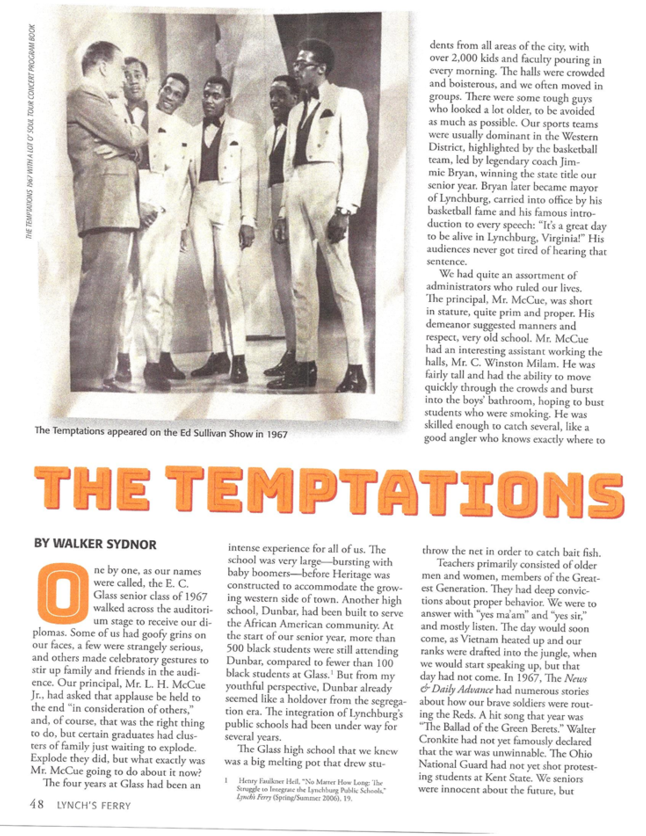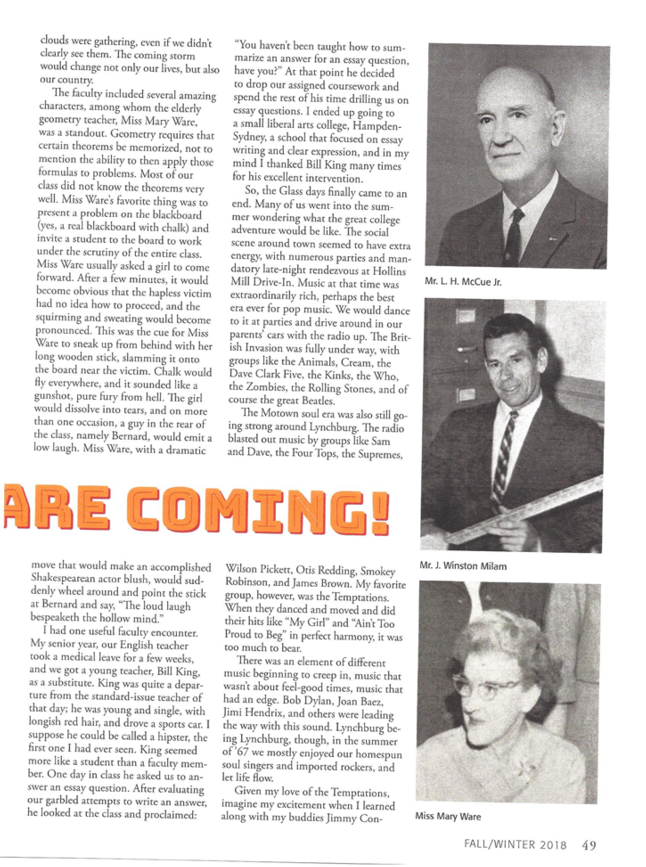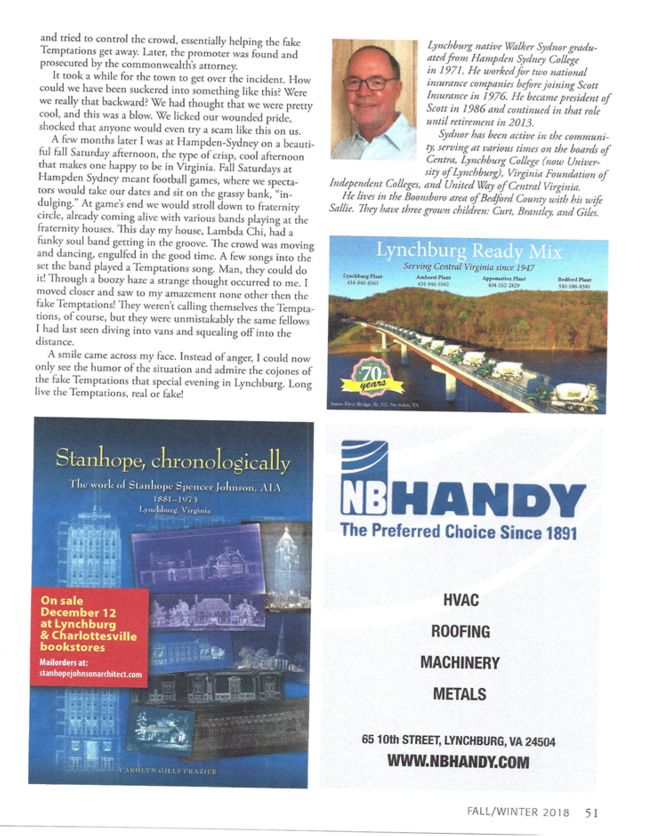 Lynchburg College to change its name to University of Lynchburg
Today (February 24, 2017), the University of Lynchburg Board of Trustees made the historic decision to change College's name to the "University of Lynchburg" at the beginning of the 2018-2019 academic year. The Board also directed the reorganization of the undergraduate program's academic structure, creating the University of Lynchburg of Arts and Sciences to honor this name in the history of the institution.
The Board's decision follows adoption of Vision 2020, the institution's new strategic plan and capitalizes on the institution's status and ranking as a university. By virtue of its undergraduate, professional and graduate degree offerings, the College is currently classified as a university by the Carnegie foundation and ranked 35 among regional universities in the south by US News and World Report.
"Because of my love for Lynchburg, I always approach every choice I face on the board with the question: 'What is best for University of Lynchburg?,'" said Polly Flint, chair of the College's Board of Trustees. "'What course of action will provide the best education today and in the future? Do our actions align with our core values and our mission? What will preserve or strengthen our financial footing, enabling us to offer a Lynchburg education to yet another generation? I believe the name change serves our best interests and will help to ensure that we not only succeed but thrive in our second century.'"
The change recognizes the College's purposeful, constructive growth over the past 114 years, including the increase in academic programs at the undergraduate and graduate level. The new name more accurately reflects the institution's status as a regional university prepared to serve students from throughout the United States and around the world with programs ranging from baccalaureate to doctoral degrees. Guided by Vision 2020, the strategic plan adopted in October 2016, the University of Lynchburg will strive for national leadership in student engagement.
"Our college has always embraced changes that helped us fulfill our mission to prepare students for successful engagement in every aspect of life," said Dr. Kenneth R. Garren, president. "We have adapted to the needs of students and the realities of the higher education landscape, allowing our community to thrive for more than 100 years. Claiming our status as a university continues this tradition, reflects our academic offerings, and will help us attract students from more parts of the nation and the world."
Founded in 1903 as Virginia Christian College, the institution became University of Lynchburg in 1919. In the 1960s, the College began offering graduate programs and undertook fundraising and building campaigns that expanded the campus. In the past two decades, the College has expanded its graduate programs — including two doctoral programs, and a third that will begin this summer, increased the diversity of its student body, and established an international presence training teachers in St. Lucia and attracted a growing number of students and faculty from around the world. In April 2015, the College's Strategic Planning Committee proposed that the Board of Trustees consider claiming university status.
Dr. Sally Selden, vice president and dean for academic affairs, said that the change reflects the alignment of the institution's identity and academic offerings with international standards in an increasingly global economy. "Claiming our status as a university will align our name with our academic offerings and enable us to attract and recruit more students, deepening our educational programming," she said. "A cornerstone of Vision 2020 is to be recognized nationally as a leader in student engagement. As the University of Lynchburg, we will maintain a student-first environment focused on deep and meaningful academic and co-curricular engagement."
As they guide the institution through the coming transition, faculty and staff will continue to put the student experience first. "We have been considered a university for many years, during which time we have increased the quality of programs that serve students with personal attention and engaging experiences," Dr. Garren said. "Acknowledging our university status in our name will not change that. The Board of Trustees has charged me to lead the faculty and staff in making our institution one of the best in the nation for student engagement, and I wholeheartedly commit myself to that mission."
We are building on our legacy of always moving forward
On July 1, 2018, Lynchburg College took its final step in the process toward becoming the University of Lynchburg. This move to rename the institution accurately reflects our dedication to high-quality academics on the undergraduate and graduate levels.
Who We Are
Becoming the University of Lynchburg is the next logical step in the progression of the institution. It reorganizes our schools into colleges and repositions Lynchburg in the highly competitive higher education marketplace.
We are an institution that places students first, empowering and investing in their potential to change lives. Our community fosters academic research, experiential learning, creative thinking, and artistic excellence.
Strategic Vision
Lynchburg's strategic vision will strengthen its undergraduate programs through active learning and improved facilities, while growing graduate programs. We will be distinguished by a mix of academic rigor, experiential learning, championship athletics, leadership, and great diversity and breadth of undergraduate and graduate programs.
Lynchburg is a first choice for talented scholars, leaders, and student-athletes who seek a community of engagement, service, and active learning. Claiming our university status makes this commitment clear.
Long-term Success
By aligning our brand identity with our institutional structure, the University of Lynchburg will attract students locally, regionally, nationally, and internationally. Our research indicates that, for a variety of reasons, attending a university is the first choice for most prospective students. This move from college to university will increase interest from students at both the undergraduate and graduate levels.
Lynchburg College has evolved to become a university throughout its 115 year history. In February 2017, the Board of Trustees voted to adopt the name University of Lynchburg beginning in the fall of 2018. This name accurately reflects who we are, affirms our strategic direction, and positions us for long-term success.
With countdown underway to long-awaited restoration, Academy of Music Theatre announces opening acts
Sep 9, 2018

LYNCHBURG, VA – Ornamental details can be seen on the walls of the Academy Theatre of Music during a tour in June. (Photo by Jay Westcott/The News & Advance)

LYNCHBURG, VA – Ornamental plaster pieces rest waiting to be hung by construction crews during a tour of the Academy Theatre of Music in June. (Photo by Jay Westcott/The News & Advance) (Photo by Jay Westcott/The News & Advance)
The historic Academy of Music Theatre will open in December with a slew of events — including one commemorating the integration of the theater.
The event, "In Unison," is set for Dec. 6, according to a news release from the Academy Center of the Arts last week.
Lynchburg started integrating in the 1960s, but since the theater closed in 1958, it technically never was integrated.
"That we're going to have a beautiful edifice of community — of bringing people together — that for the first time will be bringing people together of all races … that's history," said local astronaut Leland Melvin, who the Academy has tapped to emcee the event. "In celebrating the past, we're also celebrating the future."
The evening will include a presentation of three arts and culture awards as well as performances by rising blues rocker Devon Gilfillian and a singer the Academy news release described as "a legendary musical act."
Due to contractual obligations, the Academy cannot release the name of the evening's headliner until next month, but Academy Executive Director Geoffrey Kershner said he feels the Academy has chosen an artist befitting the importance of the occasion.
"We selected an artist that we thought in her own right has been a major part of the civil rights movement, who is a significant black performer who is cross-generational," he said in an interview last week. "Her perspective on … the past, present and future, I think, is really unique."
The event, which also acts as the theater's official opening, kicks off a month of activities featuring the likes of jazz legend Wynton Marsalis as well as a host of community groups that will now regularly have access to the new venue.
"It's surreal in that it's something we've talked about for so long and the fact that it's actually happening is a little bit pinch-worthy," Kershner said.
The Academy's decision to host not one but eight events in relation to the opening has everything to do with accessibility.
"We really view this space as the community's space and we wanted to make sure that when we opened the space, we were providing as much access to as many people across the community as we possibly could," Kershner said.
With that in mind, Academy staffers have organized events that cover a variety of price points and mediums, from music to movies.
The most expensive event is a black-tie concert Dec. 13 featuring Marsalis and the Jazz at Lincoln Center Orchestra's Big Band Holidays show.
Marsalis' inclusion in the lineup keeps with the former glory days of the theater, when celebrities like actress Maude Adams, choreographer Martha Graham and humorist Will Rogers visit Lynchburg.
Over the course of his multi-decade career as a musician, bandleader, composer and educator, Marsalis has won nine Grammys and was the first jazz artist to receive the Pulitzer Prize for Music.
"Wynton Marsalis is probably our greatest living jazz musician, and to have an artist of this caliber coming here is pretty incredible," Kershner said.
Marsalis, who serves as managing and artistic director of Jazz at Lincoln Center, also received the 2005 National Medal of Arts, the highest award given to artists by the U.S. government, and The National Humanities Medal in 2015.
He and the critically acclaimed Jazz at Lincoln Center Orchestra have performed their Big Band Holiday show for more than a decade. His website describes it as exploring "the canon of holiday standards to perform new and traditional arrangements of Yuletide favorites."
While they're here, Marsalis and his band members will open up their sound check to high school students in the area.
"Mentorship and inspiration are two important aspects of jazz," Marsalis said in an email to The News & Advance last week.
"Students attending our sound checks get a little of both; they hear the Jazz at Lincoln Center Orchestra up close and personal, in an informal setting, and they engage with the cats. … It is important for our shared humanity to come together and inspire each other."
A few members also will visit E.C. Glass High School and work with the school's jazz ensembles that morning, Kershner added.
Other events throughout the month include an all-day Holiday Movie Marathon on Dec. 8 and a performance by the Lynchburg Symphony Orchestra on Dec. 9. Charlottesville Ballet is presenting "The Nutcracker" there Dec. 15, and the Lynchburg Symphony Youth Orchestra and Junior Strings perform Dec. 16.
On Dec. 11, the Academy will host a showcase of its new resident companies: the Jefferson Choral Society, Endstation Theatre Company, Opera on the James, the Charlottesville Ballet and Thomas Jefferson's Poplar Forest — the latter of which will use the space for a speaker series.
"We view the efforts to open our facility [as] a community effort and we feel it should be beneficial to as many of our area performing arts organizations as possible," said Kershner, who noted having resident companies as part of the theater's family helps the Academy "be a galvanizing force for our area arts organizations."
The Academy will wrap up its celebration with a New Years Eve party Dec. 31 featuring Richmond-favorite No BS! Brass Band and local band Apple Butter Soul.
Kershner said this is only the beginning for the newly resorted theater.
"We'll continue to bring culturally relevant arts activities to the city."
Richmond ad guy buys Lynchburg restaurant New Texas Inn!!!
By Rachael Smith The News & Advance
Sep 28, 2018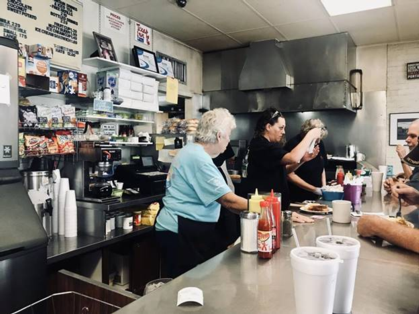 Frances Staton, left, and Rhonda Rankin, right, serve customers at the Texas Inn on Tuesday, Sept. 25, 2018. Photo by Rachael Smith/The News and Advance
A local Lynchburg landmark is under new ownership.
The Texas Inn, better known as the T-Room, is now owned by Lynchburg native Dave Saunders. Although the 83-year-old business has seen numerous owners over the decades, Saunders plans to remain true to founder I.N. Bullington, a former circus advance man, and his original "cheesy western."
The T-Room, an institution to generations of Lynchburg-area residents, opened downtown in 1935. It has changed locations, and its name, through the years. In 2012, it opened a second restaurant in the Cornerstone neighborhood.
The menu, however, has pretty much stayed the same with offerings of hot dogs, cheesy westerns — a hamburger with relish, a fried egg and cheese — and chili, better known as a "bowl."
Food is prepared quickly while loyal customers wait on 15 well-worn red stools at the downtown counter at 422 Main St. Saunders was one of them.
Saunders describes himself as "as Lynchburg as you can get." His father, Wayne, was the fire marshal at the former 5th Street fire station, and his mother, Helena, was a nurse at Virginia Baptist Hospital. He even ordered a "cheesy" after his 1986 prom at Heritage High School.
Though he now lives in Richmond and owns a brand communications agency there, Saunders said he and his wife will visit the restaurant often. He said he trusts the managers and employees to run it without interference from the owners.
Saunders describes the restaurant as "precious and beloved."
"It's a nostalgia thing for us. I'm buying my childhood love," he said.
Saunders would not reveal how much he paid for the business but said he got a "fair price."
The Main Street location will be closed Saturday and Sunday and Cornerstone will be closed Sunday for renovations. The first day of operation under the new ownership is Monday.
Customers may notice some improvements at both locations as Saunders aims to bring back original recipes and traditions.
"We are getting the Texas Inn back to its glory days," he said.
Both facilities will be cleaned and painted. The foot railings will be rebuffed, a light has been restored to the "Texas Inn" sign downtown, and old equipment is being replaced.
Coming back to the Texas Inn is the original recipe for chili and Chestnut Hill Bakery pies. French fries will now be offered downtown as well as Mill Mountain Coffee at both locations, while pork and beans and fried mozzarella sticks are out.
Saunders said prices will stay the same or even go down.
Hours will change as well, eventually. Saunders plans to have the restaurants open 24 hours a day, six days a week, except for Sunday. This change will not be immediate.
Saunders is bringing back the logo uniform and white hat tradition for employees as well. All current employees will stay on staff.
Rhonda Rankin, who has worked at the Main Street location for 21 years, said she is comforted in knowing Saunders is from Lynchburg.
"He knows the history of it; he knows the nostalgia of it," she said.
"This place has weathered all storms and has succeeded," Saunders said. "It opened in the middle of the Great Depression, and it's still there and moving forward. It's the only place where you get things good, fast and cheap."
Richmond Times-Dispatch 3/25/18
To read this article, click View on your Brower to enlarge.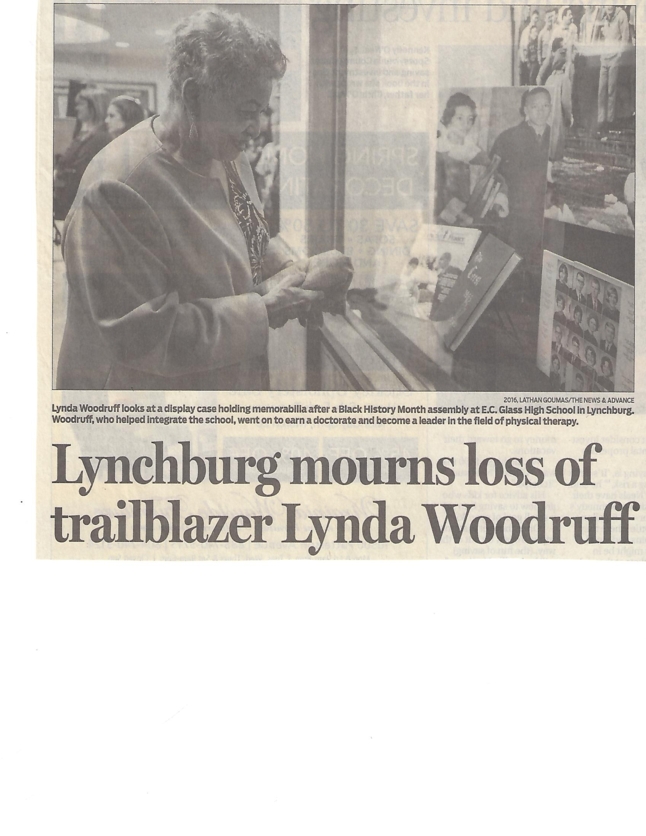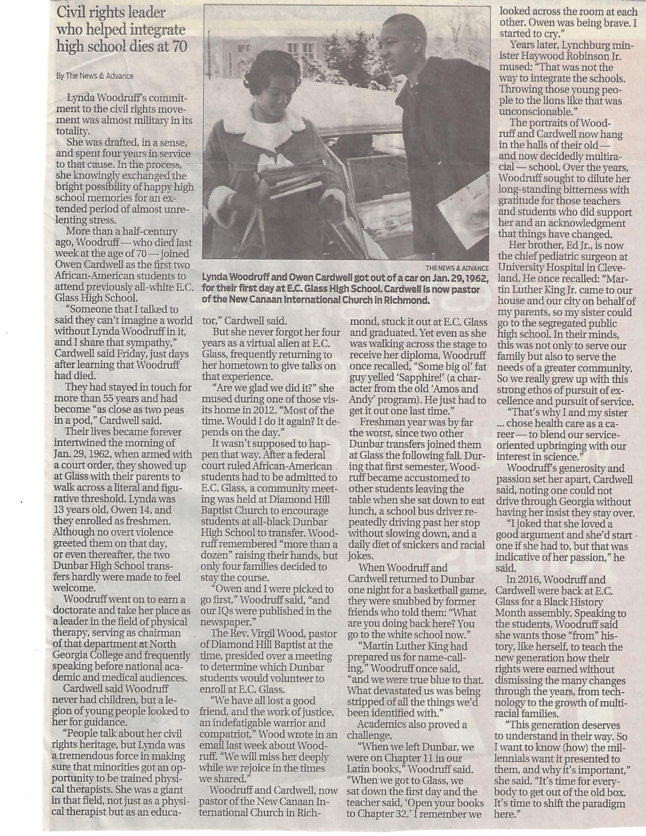 News Advance, 4/1/18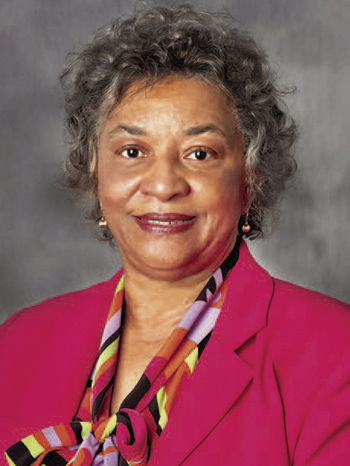 Lynda D. Woodruff, PhD, a trailblazer, educator, leader and soldier for social justice died at her home in Atlanta, Georgia, on Tuesday, March 20, 2018. Born Lynda Darnell Woodruff, on September 29, 1947, to the former Georgia Etta Richardson Woodruff and Lloyd Alton Woodruff in Amherst County, Virginia. She spent her preschool and early elementary years in Amherst. She attended Lynchburg public schools where she became one of the first 2 African-American students to integrate by landmark court order the then segregated public schools in 1962. She graduated from EC Glass High School in 1965. She received her undergraduate degree at Case Western Reserve University (1969) and graduate degree in physical therapy (1971). She was awarded her PhD at Georgia State University (1984). Dr. Woodruff's professional career as an academic physical therapist of both national and international renown had its humble beginnings at the Memorial Hospital in Danville, Virginia where she began working as a staff physical therapist (1971) acutely recognizing the devastating impact of health disparities on minority patients. This experience inspired her to envision a broader horizon as an investigator, educator, mentor and advocate. She later joined the faculty of the Physical Therapy Department, Division of Physical Therapy (PT) School of Medicine, University of North Carolina (1976) as an Assistant Professor. She was then recruited to Georgia State University as an Assistant Professor where she founded and directed the awarded winning Minority Faculty Recruitment and Retention Program. She was promoted to Associate Professor with tenure (1983). During this time, she also continued to maintain a clinical practice as a senior physical therapist at Dekalb Physical Therapists (CEO Robert McNeil). Dr. Woodruff was appointed Full Professor with tenure and Founding Chairman Department of Physical Therapy North Georgia College in Dahlonega, Georgia (1991), where she developed the first Post-Baccalaureate Physical Therapy program in the State of Georgia. She served as Chair (1991-96) and then continued as Full Professor until 2005. During her tenure she authored 10 grants of greater than $1 million to sustain operations and to initiate creative outreach community projects. She received gubernatorial appointment to the Georgia State Board of Physical Therapy serving for more than a decade. As Chairman of this Board she worked to get controversial legislation introduced to prevent unlicensed practitioners from providing direct patient care. A vocal advocate for the evolution of greater autonomy of PT's in patient care, Lynda helped design and gain accreditation for the doctoral educational curriculum that is now the standard in this field. She served as a Site Visitor and later as Commissioner for the Commission on Accreditation in Physical Therapy Education (1998-201). Building on these aggregate experiences as a Chairman and Commissioner she would later help build 8 programs in PT around the country. Additionally, as an academician, Dr. Woodruff authored more than thirty professional publications in scientific journals, numerous national and international presentations in the areas of clinical electrophysiology, laser therapy, health disparities, rural health and problem-based learning pedagogy to name a few. At the national and international level, her leadership roles blossomed in the realms of education, humanism and advocacy. She is a founding member: American Academy of Physical Therapy, North American Association of Laser Therapy, American Congress on Electroneuromyography and several other prestigious professional organizations in her field of endeavor. Dr. Woodruff worked fervently for nearly 40 years to build strong collaborations between Brazilian and U.S. physical therapy institutions by developing an exchange program for faculty and students. She also served as a medical educator in Brazil. Lynda was passionate about equity and the elimination of disparities in health. She was pivotal in establishing the original Advisory Council on Minority Affairs, Office of Minority Affairs and several Minority Scholarships at the American Physical Therapy Association (APTA) all designed to develop and maintain the pipeline of minority PT's. These programs have led to recruitment, retention and advancements of many minorities in the field of PT over 4 decades and will surely greatly extend her professional legacy for many years to come. On a personal level she mentored and housed many students. These proteges affectionately identify themselves as "Woody Babies". Dr. Lynda Woodruff is the recipient of numerous professional awards and recognitions. Prominent among these were the APTA's Lucy Blair Service Award, the Kellogg Fellowship for International Leadership and the Distinguished Service Award for the (then) Section on Clinical Electrophysiology to name only a few. This phenomenal career has been well documented through the APTA Oral History Project in which she is one of only 100 physical therapists recorded in the Association's Archives. In a statement by APTA President Sharon Dunn President of the APTA (March 28, 2018) described Lynda as one "of our profession's most remarkable and widely respected leaders [her] spirit was big and her presence powerful." She further characterized Lynda as an "important voicea stalwart advocate for our conscience for diversity and inclusion" in her letter to the membership of the field's most prestigious society. Dr. Dunn in her final words stated that "she was an icon and will be missed." Despite her pioneering role in civil rights, academic achievements, professional leadership, international work and advocacy, Lynda's life was driven by three simplistic core principles of Faith, Family & Friends. The foundation of her spiritual life was and will remain one of deep Christian faith that she first learned through life lessons on the family farm and at Timothy Baptist Church in Amherst County Virginia. Water baptism as a child on the banks of the Piney Forks of Buffalo River at the church nearly 7 decades ago would lead to a life filled with love of God through faith and love of man through service. This rebirth would transcend the humble bucolic setting of her childhood to provide her with strength and fortitude to champion change and become a thread in the tapestry of the fabric of the national dialogue of social justice in education and health care. As a teenager she became a member of the St Paul's Episcopal Church in Lynchburg when the congregation of her original Church the Good Shepherd became merged into St Paul's. She was an active member of the Episcopal Church of the Incarnation, Atlanta, Georgia. She believed that "for those they love they sacrifice." A life ethos that was modelled by her grandparents, parents, aunts and uncles, cousins, family friends and Christian community. She was a passionate, hardworking, committed individual whose life's work was always "other focused." Her love of family in both the nuclear and extended form is epitomized by all the private relationships she had with each of her nephews, nieces and cousins, who all thought they were her "favorite." She loved both parents but had a special love for her "daddy," Ed Barksdale Sr. who she felt chose her to be his one and only daughter. Although not biologically related (you would never know by their shared love and adoration), they were spiritually bound as close as any father and daughter could be. He provided critical balance to her fire, support for her to fail forward and was the "wind beneath her wings." She also dearly loved her brother Ed Jr. ("Ricky") who was both sibling and child to her. She admired his intellect, drive and quiet strength like his father and adored his wife (Michele) and their children (Tres, Drew, Gil and Morgan). She had numerous cousins and friends that became family. She enjoyed people individually and in groups and gave of herself generously to them. She was a member of Alpha Kappa Alpha Sorority, Inc. She was initiated into the Alpha Phi Omega Chapter (Graduate) Danville, Virginia in 1974. Family also meant community for her either students or professional colleagues that thought of her as their mother, even those who were more senior. Her matriarchal empire was broad and deep extending beyond barriers of culture, geography and language especially in Brazil. She had numerous friends and colleagues across the academic, professional, ethnic and socioeconomic spectrum. Friend was a loose term for her, if she could "help somebody" they were a friend. She will be greatly missed. She was preceded in death by her father, Lloyd A. Woodruff; stepfather "Daddy", Edward M. Barksdale Sr. She is survived by her mother, Georgia W. Barksdale of Lynchburg, Edward "Ricky" M. Barksdale Jr. MD and her sister-in-law, Michele Barksdale; her nephews and niece, Edward, Andrew, Nicholas and Morgan of Solon, Ohio; an aunt, Gladine Richardson of Amherst; cousins, Vivian Hudson, Angelo Richardson, DeeDee Richardson-Dillard, Keith Richardson, Kendall Richardson, Renee Richardson, Delano Richardson, and C. Michele Sandidge; and numerous professional children who she mentored, loved and supported known as "Woody Babies". In lieu of flowers, donations: PT Minority Scholarship Fund (Lynda Woodruff) A celebration of life will be held 11 a.m. Monday, April 2, 2018, at St. St. Paul's Episcopal Church, Lynchburg. A repast will follow immediately after the service in the Under Croft of St. Paul's Episcopal Church. Service of comfort rendered by Davis-Turner Funeral Service.
To read this article, click View on your Brower to enlarge.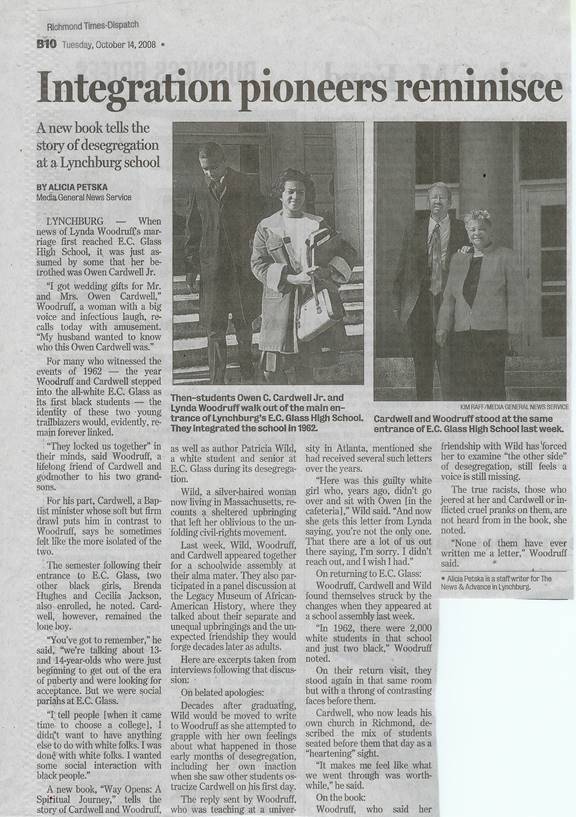 Bob Bailey, SCA Adviser, Assistant Basketball Coach, and Varsity Tennis Coach, died August 12, 2016. He attended our 40th Class Reunion as a guest.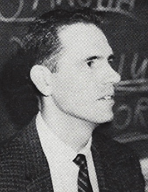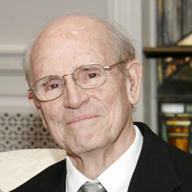 Robert "Bob" M. Bailey, 84, of Lynchburg passed away on Friday, August 12, 2016. He was born on September 14, 1931, the youngest of ten children, to Edward Smith Bailey and Mary Fannie Bailey. He attended E. C. Glass and was fortunate to play basketball for Jimmy Bryan, who became a role model for him. He earned a basketball scholarship to the College of William and Mary. While there he worked several jobs, including one as an usher for "The Common Glory" where he met Joyce Clingenpeel, who became his wife on June 22, 1957. He was preceded in death by eight of his siblings and is survived by his sister, Rebecca (Pat) McQuarry of Lynchburg; his wife, Joyce Bailey; his four children, Robert M. Bailey Jr. and wife, Laura, Mary Elizabeth Wertz and husband, Geoff, Ruth Anne Oertle and husband, Scott, Michael Bryan Bailey; and his 11 grandchildren, Brian McCraw, Chris Bailey, Peter Wertz, Joe Wertz, Cathy Wertz, Katherine Oertle, Sarah Oertle, Joseph Bailey, Jeremy Bailey, Julia Bailey and Diana Bailey. He loved each of them with all his heart. Bob worked in the Lynchburg City Schools as a teacher, coach and administrator until he retired in 1986. Bob was a long time member of First Presbyterian Church in Lynchburg, where he was active in a variety of roles including Sunday School teacher, Deacon, Elder and Clerk of the Session. Bob loved Smith Mountain Lake and loved to share time with family and friends there. The family will receive friends on Wednesday, August 17, 2016, from 7 to 8:30p.m. at Tharp Funeral Home at 220 Breezewood Drive. A memorial service will be held Thursday, August 18, 2016, at 2p.m. at St. Paul's Episcopal Church. The family is requesting that, in lieu of flowers, memorial gifts can made in Bob's name to First Presbyterian Church, St. Paul's Episcopal Church or the charity of your choice. Tharp Funeral Home & Crematory is assisting the family. To send condolences, please visit tharpfuneralhome.com.
LC Greats Wayne Proffitt and Frances Simpson Inducted into EC Glass Hall of Fame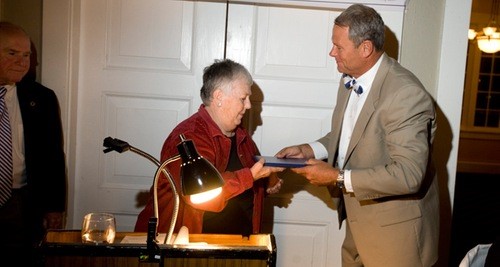 LYNCHBURG, VA – Two legendary figures in Lynchburg College sports history were recently inducted into the inaugural E.C. Glass Athletic Boosters Hall of Fame. The banquet was held September 17, 2011 at the Oakwood Country Club.
The Hall of Fame honors E.C. Glass athletes and coaches who distinguished themselves in their individual sports and as exemplary citizens. It also recognizes ECG teams and supporters.
Wayne Proffitt and Frances Simpson were part of the 20-member class. Proffitt, a former LC men's basketball player and head coach was a 1959 graduate of E.C. Glass. After a very successful high school career which included a state title in his senior season, Wayne found his way to Lynchburg College where he holds 18 school records on the hardwood. He dropped 68 points against UNC-Charlotte which is a Virginia collegiate single game record. Proffitt earned All-American honors in 1966 and 1967 and was drafted by the NBA and ABA but chose not to pursue a professional career. As a Hornet coach, he led his teams to several conference titles and holds the most wins in LC men's basketball history.
Frances Simpson was instrumental in bringing lacrosse to Lynchburg College in the early 1960s and played on the Hornet lacrosse, field hockey and tennis teams. She was also crucial in developing the intramural program. She began a 40-year teaching career in 1965 at E.C. Glass and was a coach for 31 of those years. She is the winningest girls tennis coach in state history (418-80) and her team captured two state crowns.
EC Glass Athletic Director Chip Berry, also an LC alum, presented Proffitt and Simpson with their certificates.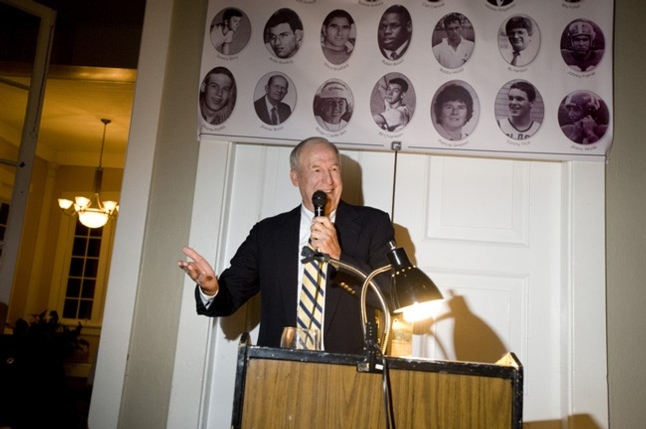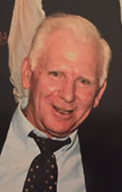 Coach Bob Sherrill
Bobby "Bob" Franklin Sherrill, 83, passed away Sunday 30 July at his home in Manassas, VA following a brief battle with a very progressive form of dementia. He was born 12 August 1933 in Hickory, NC. He was married to Shirley his wife of over sixty years. Bob was an educator, coach and athletic director for the City of Lynchburg and Prince William County Public Schools for almost forty years. He also served in the United States Army from 1956 through 1958. From 1969 through 1991 Bob was employed at both the old and new Gar-Field High Schools. As Athletic Director at Gar-Field he was instrumental in building the athletic programs and establishing the reputation of Gar-Field as a "School of Champions". After retirement he moved to Whispering Pines, NC in 1991 returning to Northern Virginia last year. He is survived by his wife, Shirley of Manassas VA; two sons, Chris Sherrill of Weaverville, NC, Lance Sherrill of Manassas; two brothers, Bill Sherrill of Whispering Pines, NC, Jack Sherrill of Wilmington, NC and eight grandchildren, Lizbeth, Noah, Masen, Ashleigh, Christopher, Bobby, Melanie and Nicholas. He was preceded in death by his parents, and three brothers and four sisters.
A funeral mass will be held on 18 August 2017 at 11:00 at Sacred Heart Catholic Church in Manassas followed by interment at Quantico National Cemetery at 1:00pm. Family will greet guests prior to the mass at 10:30. In lieu of flowers the family is requesting contributions be sent to Sacred Heart Catholic of Manassas for its support during Bob's time of adversity and pain.
Sacred Heart Catholic Church
12975 Purcell Rd.
Manassas, VA 20112
703-590-0030
http://www.insidenova.com/obituaries/bobby-bob-franklin-sherrill/article_024e5578-7eed-11e7-8391-8730d85b4e98.html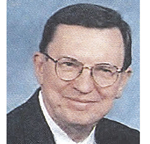 Steve Shenk
Steve Shenk taught drafting at E. C. Glass.
William Stephen Shenk of Ginter Place, Richmond, and formerly of Lynchburg, died on September 10, 2017. He was on born July 31, 1939, the son of the late William Ray and Frances Broyles Shenk. He is survived by Betty, his wife of fifty-one years; daughter, Jill Evans Shenk Gayle (Charles); son, William Benton Shenk (Christine); and four grandchildren, Caroline and John Gayle and Marie and Emma Shenk. A native Virginian, he was widely traveled during his formative years and received his Bachelor's and Master's Degrees from Auburn University and New York State University, respectively. He advanced from high school teacher (E. C. Glass) to engineering professor, and then began a long and productive career with Wiley Wilson, one of Virginia's most respected engineering/architectural firms, where he became a Principal, Director, and Manager of Engineering and Architectural Design Services. His specialties, water resources engineering and the design of large manufacturing facilities, took him all over the U.S. and occasionally outside the country. After retiring and until the time of death, he continued to practice engineering, first with the Virginia Department of Environmental Quality, and then fifteen years with the City of Lynchburg Department of Water Resources, altogether, almost sixty years of teaching and engineering. He was a Licensed Professional Engineer in Virginia and several other states, and in 2013 received the Lifetime Engineering Achievement Award awarded jointly by the six engineering societies of Central Virginia. He was dedicated to the well-being and happiness of his family, and took great pride in their growth and accomplishments. He enjoyed a wide range of recreational and sports activities, but enjoyed none more than ballroom dancing with his beautiful wife Betty, where they made and enjoyed many friendships. There will be a graveside service on Saturday, September 16, 2017, at 1 p.m. at the family plot at Beahm's Chapel Cemetery, 1224 US Highway 211 East, Luray, VA 22835.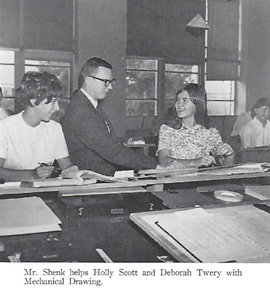 Classmates: We received a letter from William "Willie" Bartley who will not be able to attend our reunion, but he gave permission to post his letter.